Cancer knows no
boundaries
It can affect
anyone
at any age
Yet, there is
Hope
as the frontiers
of medicine
are extended
every day
The Garden of Hope is a memorial to those who have died of cancer and to those who have survived the disease. Located on the north side of Sunrise Highway just west of Old Mill Road, the Garden of Hope consist of an assortment of flowers and other foliage.

A section of the Garden is dedicated to Norman Levy, the senator that fought hard to heighten awareness of breast cancer on Long Island. Others that the garden pays tribute to include Marie Quinn, a former guidance counselor at Wantagh High School who died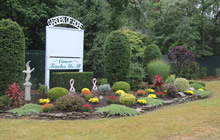 from the disease and Mary Ellen Farrell, a former teacher at the high school. Quinn is one of the founders of 1-in-9, the Long Island Breast Cancer Action Coalition.
The Long Island Planning Council (LIPC) is coordinating the Garden of Hope and would appreciate any donations of money, building supplies, foliage or good-old elbow grease. Please write or call for more information.
> Wantagh Garden is Blooming Again, Wantagh Herald 2014-09-24
This Webpage is provided
by your friends and
neighbors at

Revision Date: 2014-09-25
Long Island Planning Council
PO Box 192
Wantagh, NY 11793
Cathy McGrory Powell, Chairperson
516.826.5748 ● histtchr@erols.com