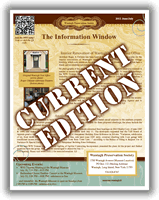 "The Information Window" is the official newsletter of the Wantagh Preservation Society. In addition to general information about the Society, the periodical may also include articles about the history of our area.
It is now published about six times per year. For your convenience, "The Information Window" is made available online.
The editor of the Information Window, Jim Colotti can be reached at wps

wantagh.li. Articles and notices are invited on subjects of local interest.